A tent is your cheap ticket to wild beauty spots across Europe, from Swedish lakes to Greek beaches – with walking, wildlife and stargazing on tap
Le Clos du Lac, Provence, France
Setting Mountains
Pitches 50
Activities Fishing, swimming
Perched at 1,485 metres on the edge of Écrins national park, this mountain site offers Instagrammable views from the tent door and a range of picture-perfect outdoor experiences. Serre-Ponçon lake is a short walk away, for swimming or fishing, and nearby Boscodon forest has a host of hiking trails. At the campsite, there's a volleyball court, kids' play area and botanical garden home to nine species of butterfly. By night, the stargazing is superb.
Le Chant-hibou, Auvergne, France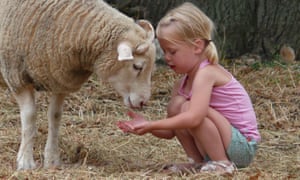 Setting Countryside
Pitches 20
Activities Swimming, stories, animals
This small yet spacious site on a modest farm not only has a petting zoo, where children can cuddle up to the animals – in summer there are daily activities such as helping collect eggs, making cookies, face painting, riding tractors and storytelling around a campfire. The site is flat, with a pool (plus toddlers' pool) in the middle, so little ones can run free while parents keep an eye on them.